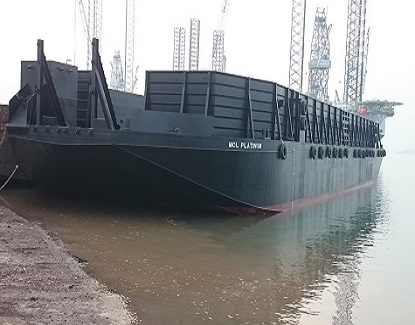 280FT x 80FT x 17FT
DWT: 6500 MT
| | |
| --- | --- |
| BARGE NAME | MCL PLATINUM |
| FLAG | MALAYSIAN |
| YEAR BUILT | 2017 |
| OFFICIAL NO | 336744 |
| GROSS TONNAGE | 2595 |
| NET TONNAGE | 779 |
| SPEED OF VESSEL | NA |
| LENGTH | 81.98M |
| BREADTH | 24.39M |
| DEPTH | 5.18M |
| NO OF ENGINES | NA |
| ENGINE/TOTAL POWER | NA |
| IMO NUMBER | NA |
| OWNER IMO NUMBER | NA |
This 280ft x 80ft jumbo barge has a DWT of 6500MT was built in Year 2017. MCL Platinum was launched in April 2017 and operational since June 2017. View the video of the launching of MCL Platinum. At the time of launching, this is by far the largest flat top deck cargo barge in MCL's fleet, setting our track to become one of the largest barge owner and service provider in West Malaysia.
This barge has all-round sideboards of 12Ft height. Her depth of 17ft still allows her to enter many jetties and river in Indonesia, Malaysia and Thailand, making her especially suitable for charter to carry cargo in Indonesia, Malaysia and Thailand water. She is towed by suitable-powered tug boat, ensuring adequate speed performance.
This 280ft barge is available for charter for spot cargo and for COA.